Pee-Squirt Chased By Wimmen.........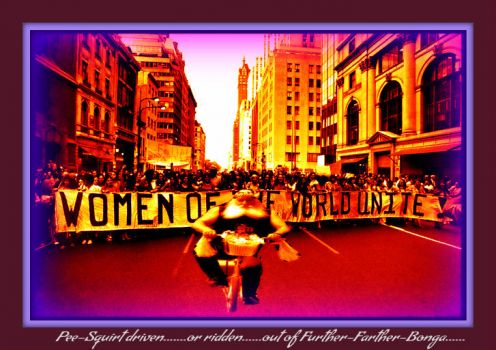 Why are you reporting this puzzle?
This photo, taken by Hippolytus, an eye-witness to the scene, shows Mr.Pee-Le-Squirt frantically pedalling as he's never pedalled before, in a desperate attempt to escape the wrath of the good wimmen of Further-Farther-Bonga (for that is where he is.....or was).......
Apparently he was peddling his wares before pedalling off, handing out leaflets with his 'get-lucky' number to all and sundry........Hippolytus informs me that the ladies rule the land here, and have no time for lecherous Lotharios of the squirty type.........
Sweetlittleoldgranny is now guiding the luckless lover back through the desert.........
Unclebluebottle and Kaleidoboy are still in Japan, as they like the food......
Are you curious about how do we review content on Jigidi?

At Jigidi, we celebrate what connects us and steer clear of divisive content because how we meet each other matters. It forms us. When we review the content, we use four 'lenses' and look for what the image or comment is most.