Awesome Nature - Horsetail Fall Firefall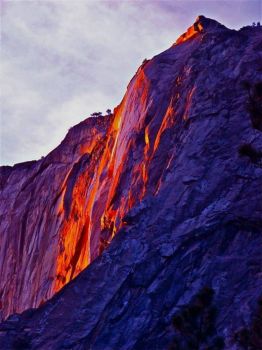 Why are you reporting this puzzle?
Horsetail Fall, located in Yosemite National Park in California, is a seasonal waterfall that flows in the winter and early spring.
The "Firefall" is one of Yosemite's most amazing spectacles. Around the 2nd week of February, the setting sun hits Horsetail Fall at just the right angle to illuminate the upper reaches of the waterfall. So, when conditions are perfect, Horsetail Fall glows orange and red at sunset.
Several factors must converge in order to trigger the firefall. 1st + foremost, Horsetail Fall must be flowing. This itself relies on several factors, there has to be enough snowpack in February+it must be warm enough during the day to melt it.
2nd, the western sky must be clear at sunset. If it's snowing, raining, or even just cloudy, the sun's rays will be blocked and Horsetail Falls will not light up.
Only when this synchronicity is achieved, nature creates a masterpiece, blazing for up to 10 minutes, which is the spectacular Horsetail Fall Firefall.