Cappadocia, Anatolia, Turkey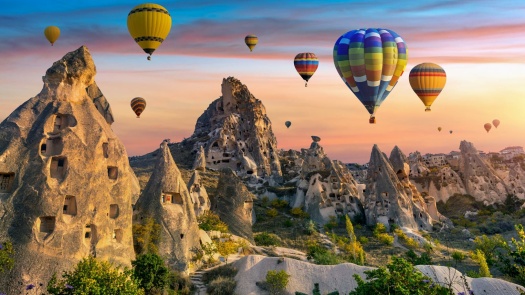 Why are you reporting this puzzle?
As remarkable a scene as these hot air balloons make, it is not what catches our eye in this photo of Cappadocia in Anatolia, Turkey. The carved-out caves do.
The earliest record of Cappadocia is from the late 6th century BC
. People of the villages in the Cappadocia Region carved out houses, churches and monasteries from the soft rocks of volcanic material - above ground and underground. More than anything, the caves offered protection from attacks from surrounding enemies.
You can learn much more about this in this wonderful article
in which it says that it was not until 1923 that the underground cities were abandoned entirely.
Are you curious about how do we review content on Jigidi?

At Jigidi, we celebrate what connects us and steer clear of divisive content because how we meet each other matters. It forms us. When we review the content, we use four 'lenses' and look for what the image or comment is most.