"Having grown disenchanted with the hectic pace of life, Ollie was finally ready to get off the grid, See you later, Alli-grate-r"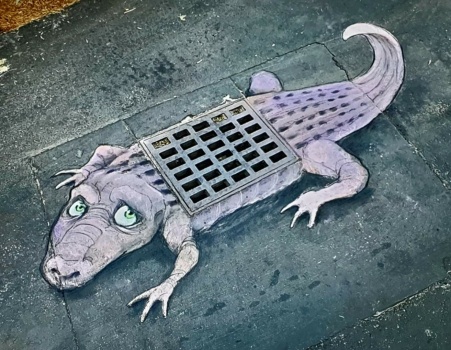 Why are you reporting this puzzle?
Watch David Zinn create art on sidewalks; https://www.youtube.com/watch?v=f885C3fD-u4

David Zinn has been creating original artwork in and around Ann Arbor, Michigan since 1987. For more than twenty years, he freelanced for a wide variety of commercial clients while simultaneously sneaking "pointless" art into the world at large.

His most frequent characters are Sluggo (a bright green monster with stalk eyes and irreverent habits) and Philomena (a phlegmatic flying pig), but the diversity of Mr. Zinn's menagerie seems to be limited only by the size of the sidewalk and the spirit of the day.