Lobo - the Wolf that changed America.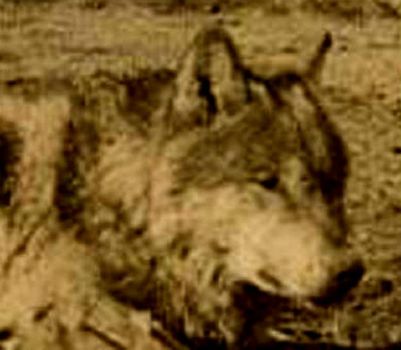 Why are you reporting this puzzle?
At an estimated 150lbs, Lobo was a giant of an American wolf who, lived in New Mexico, in the Currumpaw valley. In the 1890's, he + his pack, due to being deprived of their natural prey by human settlers, resorted in preying on livestock.
The Ranchers tried to kill Lobo + his pack by poisoning carcasses, but the clever wolves seperated the poisoned pieces + tossed them aside.
Next, they tried to kill them using traps + hunting parties, to no avail.
The alleged $1,000 bounty for Lobo's capture drew Ernest Thompson Seton. He set 5 baits in Lobo's territory, taking care to cover all human scent. The next day, finding all 5 baits gone, Seton assumed Lobo to be dead.
The baits were later discovered in a pile covered in Lobo's own 'deposit'.
Seton then set out new specialized traps in Lobo's territory, but discovered later, Lobo's tracks leading from trap to trap, exposing each.
Having anticipated a two week job, Seton was becoming tired + frustrated, as weeks became months.
Then, while camping out, he came across Lobo's tracks, following another, smaller set.

Seton had found Lobo's weakness. Blanca, a white wolf - Lobo's mate.

He set out several traps in a narrow passage, hoping to succeed with baiting+trapping Blanca, where he had failed with Lobo. Finally, Seton's plan worked. Blanca, investigating one of Seton's planted cattle heads, got caught in his trap.
Blanca was howling, Lobo at her side, when Seton found her. Lobo took off, to a safe distance+watched as Seton+his men killed Blanca, using ropes tied to the horses to break her neck.
For days afterwards, Seton listened to Lobo's howls, he described them as having "an unmistakable note of sorrow in it... It was no longer the loud, defiant howl, but a long, plaintive wail." Despite feeling remorse for the grieving wolf, Seton was still bent on capturing Lobo.
Regardless of the danger, Lobo followed Blanca's scent to Seton's ranch house, where she'd been taken. Seton used her body to scent more of his traps.

On January 31, 1894, Lobo was caught, with each of his four legs clutched in a trap. Still, with all his injuries - he stood up+howled as Seton approached him. When Seton looked into the wolf's eyes, he could not kill him. He+his men roped+muzzled Lobo, put him onto the back of a horse+carried him back to the ranch. Lobo refused to acknowledge his captors. Secured to a chain, he simply gazed off across the prairie. Lobo died during the night. Seton believed it was from a broken heart.
Seton spent the rest of his life championing the wolf, one of the most demonized of animals. He wrote,"Ever since Lobo, my sincerest wish has been to impress upon people that each of our native wild creatures is in itself a precious heritage that we have no right to destroy or put beyond the reach of our children."
Ernest Thompson Seton, born in South Shields, County Durham (now in Tyne&Wear) influenced a great number of people both across America+around the world, playing a role in changing views regarding the environment+providing the spark for the start of the conservation movement.
Check link to watch the David Attenborough Natural World documentary.