Johann Christoph Friedrich Von Schiller
Johann Christoph Friedrich Von Schiller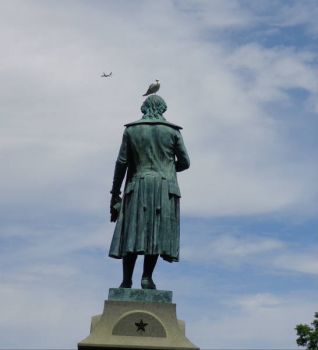 Why are you reporting this puzzle?
I knew by the time I went around to the front of this statue, the bird would fly away and the plane would also be gone...thus the backside!

Chicago's Schiller Monument is a replica of a sculpture in Germany. Johann Christoph Friedrich von Schiller (1759–1802) was a German playwright and poet who wrote passionately about the value of freedom and ethics. Schiller was born in Marbach, a town in southwest Germany, where original statue has stood since 1876. It was created by German sculptor Ernst Bilhauer Rau.

In the 1880s, Chicago's German community had great enthusiasm for Schiller and a committee of Germany Citizens spent several years raising money for a monument to the revered writer. In 1885, after a large group of German immigrants held a meeting in Chicago's Turner Hall, a corner stone and foundation were laid in Lincoln Park. They committee hired William Pelargus, an artist from Stuttgard, Germany, to recast the original monument located in Schiller's birthplace. The committee also contracted with Lake View marble cutter John Gall to create the monument's attractive granite base.