Horses ~ Perfection - Golden Akhal-Teke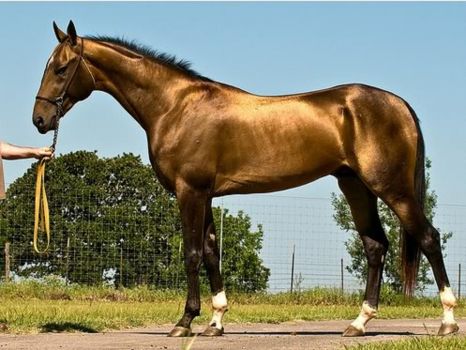 Why are you reporting this puzzle?
Deservedly voted the world's most beautiful horse, the Akhal-Teke is one of the oldest + most exotic breeds of horse in the world.
Revered + celebrated as a cherished national symbol in Turkmenistan, the Akhal-Teke, developed by the fierce nomadic warriors of the Central Asian Steppes over 3 thousand years ago, is sometimes referred to as the world's "mystery horse," as it has 'influenced many, yet been influenced by none.'
The Akhal-Teke, also known as the 'gift from the desert,'+'greyhounds among horses,' was bred for endurance and speed.

ENDURANCE was developed by the most harsh, rigorous natural selection, in raids+wars, where thousands of horses died+ only the toughest survived, to pass on their phenomenal qualities to their progeny. Stamina was also achieved by fairly unusual methods of training+preparation.
One man writes, "The endurance of these horses is indeed incredible. When Turkmen start on one of their plundering raids the horses are not only burdened with the rider's weight, but have to carry a supply of provisions as well; and despite of that, they cover 80?100 English miles in 24 hours, and often can do this for several days in a row. When Turkmen plan to make a raid requiring strong effort and speed, they make their horses run a distance of many miles daily, feed them sparsely with barley and wrap them up with blankets during the night. They continue to do this until all superfluous fat disappears and their muscles become hard as marble. They check the desired condition of the flesh by examining the neck muscles and thighs. After thus being prepared, the horse attains incredible speed and endurance, and he will run almost as long as his rider demands without losing strength or getting tired. Horses which are well nourished before starting on such a sortie seldom can withstand exertion of such kind."

Muraviov in his book 'Travels Through Turmenistan & China' (1820) wrote: "It is hard to imagine what these horses can endure, in eight days they cover about 143 German miles through waterless, bare deserts, eating only small quantities of Gogan (millet) + sometimes going without water for four days in a row."
In the 1880's when the Russians came to Turkmenistan they were amazed by the performance of the Akhal?Tekes. Colonel Artsyshevsky wrote in the Magazine of Horse Breeding (1882): "I had at times to cover 160 kilometers a day switching horses, whereas the Turkmenian jighits who accompanied us were riding on their horses, and were even sent out on outriding + scouting missions. In addition to the rider + the saddle, the horses carried at all times huge felt coats + various supplies."
Major Spolatbog in the same magazine (1881) recounts an episode of the Gheok?Tepin battle:"An Akhal?Teke stallion with three Teke warriors + two heavy felt coats aboard + wounded by a saber escaped the pursuit of Cossacks over shifting sands + reached Merv (500km away)."

No other horse can lay claim to the history, legend, mystique that is the Akhal-Teke.