What Do You Do In Heaven?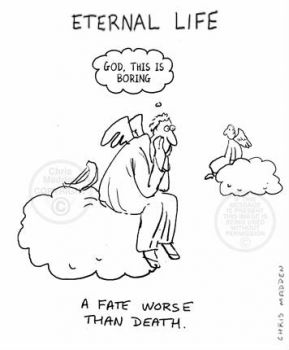 Why are you reporting this puzzle?
What do you do? Can you read, watch TV, ski, travel, eat--do you have a body to do these things? If you do, what body is it--you at your prime? What if you were born missing a limb, or with severe intellectual disabilities? Are you now whole? Are people who were geniuses in life still brighter than others, or are all people now full of complete knowledge and understanding? If so, what's left for people to do who spent their lives pursuing scientific discoveries or archeological digs or astronomy--are they bored knowing it all now? If you always wanted to be better looking, are you just the way you want now? If you died as a toddler, are you an adult now? Then how do your friends and loved ones recognize you?

If you don't have a body, then, really, you can't eat or read or ski or swim or sing or climb mountains or......so what do you do daily (and nightly, since you wouldn't need to sleep) for the next million billion trillion years--and the next million billion trillion years after that?

I really would be interested in what you think.