MiniatureProduce veg 1 JAN19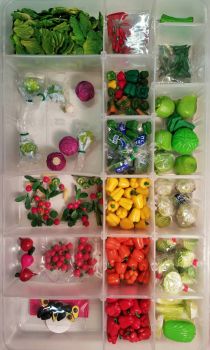 Why are you reporting this puzzle?
Inventory pics for a supermarket diorama I'm working on.
As you can see, the quality varies. Some are very realistic, and some are toys made for Barbie by Mattel and other companies. The colors are sometimes crazy, like the purple bell peppers! And there's not always a lot of thought to scale. The corn sizes vary greatly. I will repaint the pieces that are the wrong color, and add detail with paint to some. These will go in bins and coolers just like in a real store, so the less realistic pieces will go on the bottom, and the better ones on top.
Are you curious about how do we review content on Jigidi?

At Jigidi, we celebrate what connects us and steer clear of divisive content because how we meet each other matters. It forms us. When we review the content, we use four 'lenses' and look for what the image or comment is most.