Dignity Of Earth and Sky
Dignity Of Earth and Sky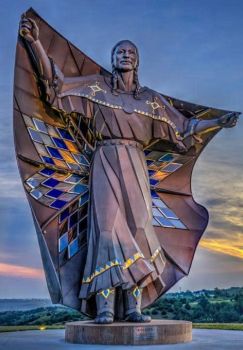 Why are you reporting this puzzle?
At night LED lights cause the diamond shapes to glow in the night sky. Located just off Interstate 90 near Chamberlain, South Dakota, the stainless steel, 50-foot-tall dancing Native American woman casts a peaceful gaze across the waters of the Missouri River.
Sculptor Dale Lamphere designed her to honor the cultures of the Lakota and Dakota people. He used three Native American models ages 14, 29, and 55 to perfect the face of Dignity. Her dress is patterned after a two-hide Native dress of the 1850s. The star quilt -- a representation of respect, honor, and admiration in Native American culture – has 128 stainless steel blue diamond shapes that seem to flutter in the wind.