Isidor Kaufmann (Hungarian, active in Austria, 1853–1921), Hannah
Isidor Kaufmann (Hungarian, active in Austria, 1853–1921), Hannah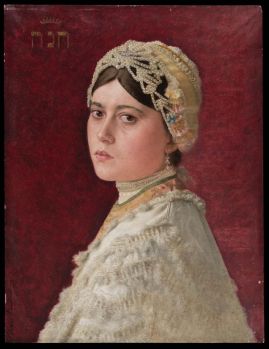 Why are you reporting this puzzle?
Oil on panel
38 cm high
Museum of Fine Arts, Boston

From the museum's website:

Kaufmann made summer study trips to the "shtetls," small Eastern European communities that maintained their Jewish traditions and culture. Working at home, he turned his sketches into romanticized, nostalgic images of a Jewish way of life lost in modern Vienna. This portrait (labeled "Hannah" in Hebrew on the upper left) shows the sitter wearing the traditional clothing of a well-to-do married woman. Particularly characteristic is the "sterntichel," her splendid satin cap decorated with lace and pearls, signs of wealth and status.