Z5 Wolf Trap, VA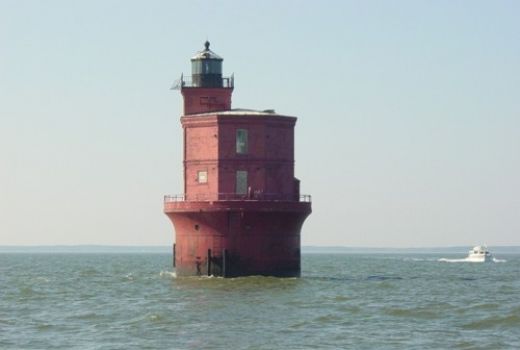 Why are you reporting this puzzle?
Wolf Trap Light is a caisson lighthouse in the Virginia portion of the Chesapeake Bay, about seven and a half miles northeast of New Point Comfort Light. It is listed on the National Register of Historic Places.
Wolf Trap Shoal juts into the bay from Winter Harbor, a point a few miles north of Mobjack Bay and the York River. It got its name from the 1691 grounding of HMS Wolf, a British naval vessel engaged in enforcing the Navigation Act and in combating piracy.[6] In 1821 a lightship was stationed at this spot, and after refurbishment in 1854, the original ship was destroyed by Confederate raiders in 1861 during the Civil War. Two years later a replacement ship was put on station.

In 1870 a screwpile lighthouse was constructed on a hexagonal foundation, the house being prefabricated at the station at Lazzaretto Point in Baltimore. This light survived until 1893, when ice tore the house from its foundation. The keeper was able to escape, but the house was found floating far to the south at Thimble Shoals, where the lantern and lens were recovered.
Do you know enough about copyright?

When you share material online, it's necessary to know what copyright law says about sharing online material. We have created a copyright video guide for you that will give you a basic understanding, along with 4 tips on how to share material within the boundaries of copyright law.