Harbor Cat by Martin Leman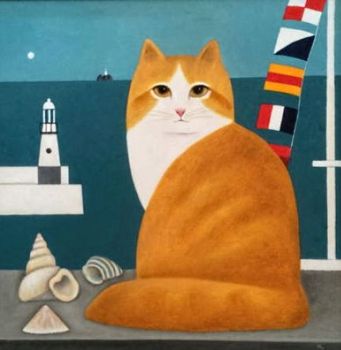 Why are you reporting this puzzle?
Born in London in 1934, Martin Leman studied at Worthing School of Art and later at London's Central School of Art. He began his career in advertising and publishing as a designer, illustrator and typographer and it was not until the early 1960's when he became a full time artist. Leman is famous for his cat paintings and his humorous paintings of the female form.

Despite being a Londoner he has a strong affinity with Cornwall and this can be seen in his signature naïve style of painting. Like his contemporary Beryl Cook, his non idealized portrayals of the female form retain a humorous undertone which enables them to appeal to a wide audience.
What is the filter for?

Some puzzles are shown behind a filter. These puzzles are within our guidelines but still is material of which some will take great offence. Read more about the reasons and workings of the content filter and how you can set your account up to either see or not see puzzles that are shown behind a filter.