Crispy Sole Fillets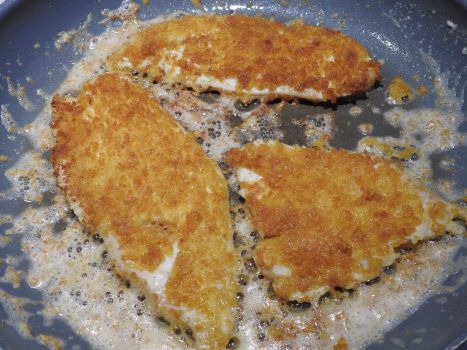 Why are you reporting this puzzle?
New Recipe
Crispy Sole Fillets

400-500g sole fillets
2 heaping tablespoons whipped dressing-
1/4 teaspoon garlic
1/2 teaspoon onion powder
couple of dashes of chilli powder
1 teaspoon lemon juice
1 cup cornflake crumbs or Panko crumbs
butter for frying

Combine whipped dressing with a squirt of lemon and sprinkle of spices.
Rinse and pat dry with paper towel the sole fillets
Coat them with the whipped dressing mix.
Dredge through cornflake/panko crumbs.
In a stick free frying pan melt a tablespoon or two of butter. Add fish when bubbling.
Fry in butter at low/ medium heat, lower if butter scorches, wipe pan out and start again.
Fry until golden brown, place on a paper towel, wipe pan out and repeat for remainder of fish fillets. Serve as soon as they are all fried/ hold in a warm oven.
Make sure you have all the other items for your meal already made.
Serve with lemon wedges.