Cute n Kitschy Kittens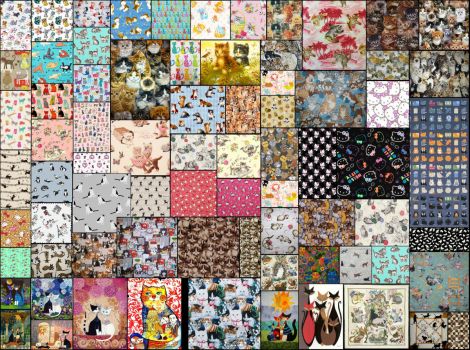 Why are you reporting this puzzle?
Staying with the kitten theme here is a bunch or clowder of kitten fabrics.

Credits:Michael Miller, Fancymoon, Zazzle, Tymbercreekfabrics, kittyworlds, modes4u, Dear Little World, Spectrix, loomshowroom, 4my3boyz, Makower, winette2436, Payton Fabrics, Loom Exquisite Textiles, Quilting Treasures, printpattern, Spoonflower, Aless Bayliss, Carolyn Gavin, lecomptoir, Alexander Henry, FabricAnnex, Cat Commerce, Polyvore, Liberty, Jazzy Space, Terapeak, Fields Fabrics, Hello Kitty, Kokka Fabrics, CafeChoo, Quilt Girl, Cosmo Japan, Sanrio, electricfoxfabrics, Timeless Treasures, Daisy Hillyard, Robert Kaufman, Janet Clare, Maggie Walker, Jody Scaltreto, AliExpress, Elgato Gomez Arts, Rosina Wachtmeister, Laurel Burch, Oxana Zaika
Are you a competitive or more a meditative solver?

You can adjust whether to have the timer show or not when you solve your puzzles. You'll find how to in our puzzle player guide.