SATURN V LAUNCHES
SATURN V LAUNCHES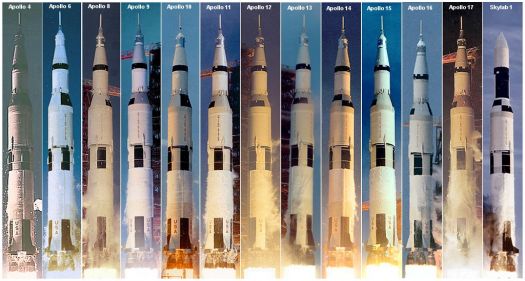 Why are you reporting this puzzle?
The Saturn V was an American human-rated expendable rocket used by NASA between 1966 and 1973. The three-stage liquid-fueled launch vehicle was developed to support the Apollo program for human exploration of the Moon, and was later used to launch Skylab, the first American space station. The Saturn V was launched 13 times from the Kennedy Space Center in Florida with no loss of crew or payload. The Saturn V remains the tallest, heaviest, and most powerful rocket ever brought to operational status and still holds records for the heaviest payload launched and largest payload capacity to low Earth orbit of 260,000 lb.

To date, the Saturn V remains the only launch vehicle able to transport human beings beyond low Earth orbit. A total of 24 astronauts were launched to the Moon, three of them twice, in the four years spanning December 1968 through December 1972.From 1964 until 1973, a total of $6.417 billion was appropriated for the Saturn V, with the maximum being in 1966 with $1.2 billion,

One of the main reasons for the cancellation of the last three Apollo flights was the cost.