Holy Trinity Monestary, Meteora, Greece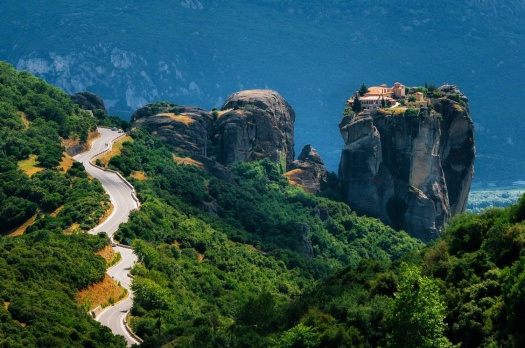 Why are you reporting this puzzle?
We admit – we have a soft spot for historic buildings in dramatic surroundings. But how could anyone pass on this image of
the Monastery of the Holy Trinity
?
The monastery is part of 24 monasteries constructed between the fourteenth and fifteenth centuries on rock cliffs in the deltaic plains of Meteora in central Greece. Six monasteries are still active and open to visitors - these are also Unesco World Heritage sites.
This one, in Today's Daily Puzzle, the Monastery of Holy Trinity, is separated from the main group of the 24 monasteries, as is another, namely
the Monastery of St. Stephens
. Before the twentieth century, Holy Trinity was tricky to access, but today you can get to the monastery along a foot track or reach it using a winch-operated lift.
Over the years, the monastery has seen and been part of many historical events, we imagine, and on that list (in the section for more mundane events) is
being featured in the James Bond 007 film titled "For your eyes only"
.
How does the notifications system work?

When you hold an account on Jigidi, you will receive notifications when someone tags you, upon a new comment on a puzzle you follow and upon new puzzles from a puzzle creator you follow.