A Relaxing Evening Chez Bugosi.......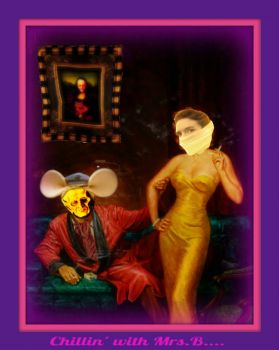 Why are you reporting this puzzle?
Today, I present to the public this charming image of 'A Bugosi night in'........
Sometimes, when my duties as an important head of state permit, Mrs.Bugosi and I enjoy a quiet
evening at home, where we ponder over questions relating to the ways of the world, and our place in
the scheme of things.......
Above us hangs the work of art known as 'The Mona Donis' which depicts the 16th.century trapeze artiste, Adonisette B.Bugosi, stroking her pussy, 'Tiddles'........This led us in our ponderings to ponder the question "Why does our cigarette smoke distort the painting?", and after pondering together for over five hours without discovering an answer, we decided to retire to bed.......In fact, Mrs. Bugosi had already been asleep for four hours.......
How do you follow a puzzle?

When you follow a puzzle, it means you receive notifications about new comments on the puzzle.