Portrait of Madame X, John Singer Sargent, 1884
Portrait of Madame X, John Singer Sargent, 1884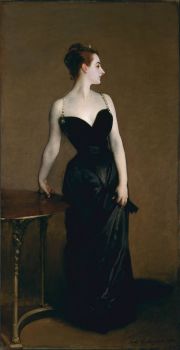 Why are you reporting this puzzle?
from Wikipedia: "The model, Virginie Amélie Avegno Gautreau, (1859 to 1915) was an American expatriate who married a French banker, and became notorious in Parisian high society for her beauty and rumored infidelities."

"She posed for paintings by several noted 19th-century painters, including Gustave Courtois and Antonio de La Gándara. Most famously, she was the model for John Singer Sargent's Portrait of Madame X."

"While the work was in progress, Gautreau was enthusiastic; she believed that Sargent was painting a masterpiece. When the painting first appeared at the Paris Salon under the title Portrait de Mme *** in 1884, people were shocked and scandalized; the attempt to preserve the subject's anonymity was unsuccessful, and the sitter's mother requested that Sargent withdraw the painting from the exhibition. Sargent refused, saying he had painted her "exactly as she was dressed, that nothing could be said of the canvas worse than had been said in print of her appearance". Later, Sargent overpainted the shoulder strap to raise it up and make it look more securely fastened. He also changed the title, from the original Portrait de Mme ***, to Madame X – a name more assertive, dramatic and mysterious, and, by accenting the impersonal, giving the illusion of the woman archetype.

The poor public and critical reception was a disappointment to both artist and model. Gautreau was humiliated by the affair, and Sargent would soon leave Paris and move to London permanently.