The Shortening Winter's Day is near a Close
The Shortening Winter's Day is near a Close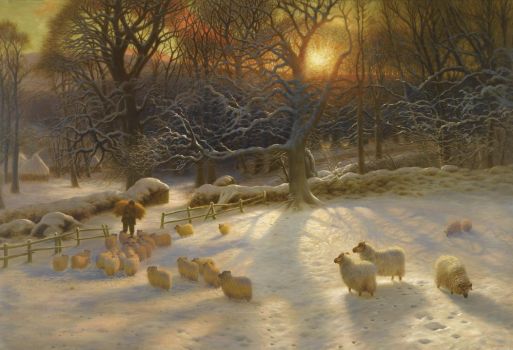 Why are you reporting this puzzle?
Joseph Farquharson (1846 to 1945), The Shortening Winter's Day is near a Close, oil on canvas, ca. 1903. Public domain, via Wikimedia Commons.

Joseph Farquharson is the most celebrated British painter of winter scenes. His depictions of sheep in snow were painted at Finzean, Aberdeenshire, and he commissioned a mobile studio/bothy on his estate so he could work virtually en plein air in the most inhospitable conditions. Farquharson's considerable commercial success was based on the snow scenes he exhibited almost annually at the Royal Academy from 1894 until 1925, earning him the nickname 'Frozen Mutton Farquharson', and celebrated printsellers Frost and Reed assured him a steady income by selling deluxe editions of his works. This subject is one of his most celebrated, and the primary version (now in the Lady Lever Art Gallery) was shown at the RA in 1903. Farquharson was known to create several versions of his best works, either to sell as replicas or to retain as aides memoires.