QEcruise-M#6 — ST. BASIL'S CATHEDRAL, MOSCOW
QEcruise-M#6 — ST. BASIL'S CATHEDRAL, MOSCOW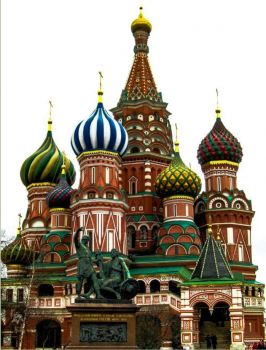 Why are you reporting this puzzle?
You marvel at the intricacy of the tower shapes, and how they form a complex pattern together... somewhat like a fantastic bonfire. You learn that the building, with quieter colours, was completed in 1561. This Russian Orthodox landmark has become an international symbol of Moscow and of the former Soviet Union.

Inside, the mosaic work on the walls astounds you with its detail and variety. You cannot see a church service though, as nowadays they're held only on Sundays; this is primarily a museum.

The Kremlin can be seen beside the cathedral, however you overhear the guide quietly mentioning that it does not allow visitors at this time.

=====///=====

What is this? For details on this free luxury virtual cruise, see the Cruise Invitation.

Either visit it at jigidi.com/jigsaw-puzzle/O58D58H1
or find it on Rob's puzzles. To see them, click on "robf' wherever you see it outside of a comment. That will take you to the first page of his puzzles. In November and December 2020, the Cruise Invitation ought still to be somewhere in the first three pages.

Jean and Rob invite you to a Party to celebrate the cruise, on Sunday December 6, beginning at 2pm EST / 1700 GMT — on the Queen Elizabeth docked in Sydney harbour, Australia. We are looking forward to welcoming you there.

P.S. Feel Free To Tag All Your Friends... The More, The Merrier!