Sitting Bull
Sitting Bull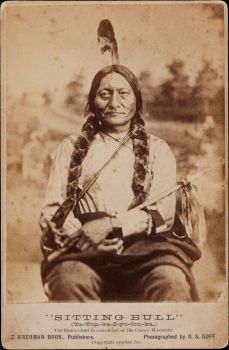 Why are you reporting this puzzle?
This Hunkpapa Lakota holy man was known as Sitting Bull ("Buffalo Bull Sits Down") and as a youth as Jumping Badger. Sitting Bull's father presented his son with an eagle feather to wear in his hair, a warrior's horse, and a hardened buffalo hide shield to mark his son's passage into manhood as a Lakota warrior.

Before the Battle of the Little Bighorn, Sitting Bull had a vision in which he saw the defeat of the 7th Cavalry under Lt. Col. George Armstrong Custer on June 25, 1876. Sitting Bull's leadership inspired his people to a major victory.