A Letter Of Some Importance.....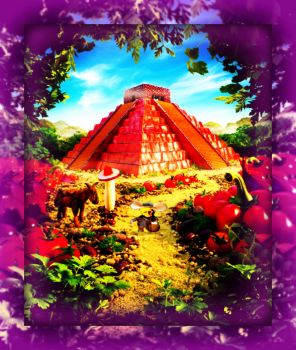 Why are you reporting this puzzle?
In fulfilling my duties as principal postman of Bonga-Bonga, I have had to return once more to the outskirts of the outskirts of Lower-Bonga-Bonga, in order to deliver a letter of some importance.......
This time, I was careful to avoid the onion fields, having been admonished by Mrs.B for 'smelling
bad and making her cry' .......I did however notice numerous placards in the area praising the
efficiency of the Bonga-Bonga Postal Service - one said "Our mail service stinks", another "Our mailman is a vegetable"........I found these signs of approval very encouraging...........
I ended up in a landscape of tomatoes (and tomatos also, as well, too)........Being overburdened with heavy mail and feeling exhausted after the long trek, I was incapable of climbing the steps leading to the door of the destinee, so once again had to use my postman's common sense - this time I left the slightly important letter between the ears of the donkey seen here........I thought that was the only
logical thing to do......