"Art Deco" Style Clock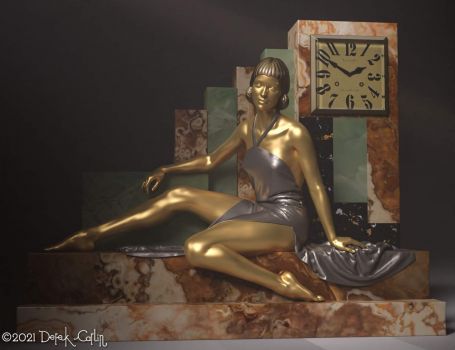 Why are you reporting this puzzle?
In the early 20th Century, there was the Art Deco movement. Characterized by simple clean lines in architecture, there was also an Art Deco movement in sculpture and other art forms (such as the decor in Art Deco buildings). In those cases the style featured simplified forms, often with geometrical shapes, and would feature a mix of natural (polished rock, crystals, glasses) and man-made substances (such as ferroconcrete, vita-glass, and plastics, esp. Bakelite in those days).

The style came to a peak in the 1920's in Europe and the 1930's in the USA. Some of the more well known examples of Art Deco in architecture in the US include New York City's Rockefeller Center (especially its interiors supervised by Donald Deskey; built between 1929 and 1940), the Chrysler Building by William Van Alen, and the Empire State Building by Shreve, Lamb & Harmon.

By the end of WWII, the style fell out of fashion, but there was a revival of interest in the 1960's and to this day "Art Deco inspired" works continue to appear ... such as this mantel clock (the clock base is Art Deco in nature, but the figure has a bit too much detail to be considered a pure form of the style).