"Saint Cecilia" (1895) by John William Waterhouse.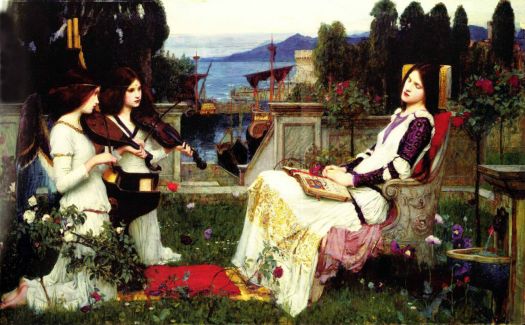 Why are you reporting this puzzle?
Saint Cecilia is the patron saint of music. Two angels kneel by her side playing stringed instruments. The book in her hand is most likely the holy gospel which the actual saint always carried concealed from her non-Christian family. Saint Cecilia is considered to be one of the Catholic Church's greatest martyrs. She converted many to Christianity which eventually cost her her life. She was ordered to be suffocated by steam, but survived and was found smiling inside the chamber. She was then ordered to be beheaded, but the executioner could not sever her head with the three blows allowed. She supposedly survived for three days, throughout which she was said to be fully coherent and joyful. She finally died after being blessed by the holy Pontiff Urban.