Creating tomorrow
Tens of thousands of people come to Jigidi every day. They share their passions, experiences, and outlooks via puzzles and comments - and you thus refashion your own. This is human creativity at work.
9:26
Magnus
7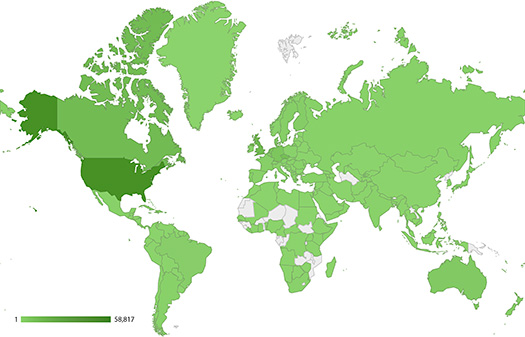 Who is Jigidi?
Let's see - this is attendance called this week on Jigidi ♥:
Countries colored green have visited Jigidi – counting altogether 135,532 Jigidi puzzlers online from 184 countries. 135,532 Jigidi puzzlers who have:
published 8,953 new puzzles,
left 30,737 comments, and
solved 796,201 puzzles
Creators, solvers, and commentators from all over the world reflect and build on images along with each other's reflections – this makes Jigidi a global petri dish for creativity.
Even though we may not think of it this way, being creative equals training your brain.
(Did that point make you sink into your chair of sheer expected boredom for the next couple of minutes? Hang in there; it ends with you being a superhero).
Agreed, brain training has a bit of an obnoxious tone to it. And it does not sound like something one would happily indulge in daily (anything that has 'training' added to it has it rough, really).
Luckily, we're built so that what's beneficial for us usually makes us feel good. Hence, we seek it out (some things get stuck in the 'plan to-zone' for obvious and very reasonable, reasons, though – like clearing out the cluttered attic and cleaning the fridge).
Similarly, creativity has a somewhat dubious ring to it.
It's the sort of activity that to some sounds like a guilty pleasure one indulges in when 'the real stuff' is done for the day. While, in fact, creativity is the engine inside us responsible for what we have today of modern solutions, challenges, and pleasures.
Exercising creativity means breaking, blending and bending what stands today for a newer tomorrow.
So, joining the obnoxious sounding activity with the somewhat lesser valued guilty pleasure – voila: there you have what made humans outrun all other earthly beings from the animal kingdom by endless miles!
And this day and age – all things being equal – are glorious for our creativity.
The internet and the democratization of intellectual and artistic raw material mean that many of us have access to all kinds of knowledge about an endless number of subjects from a never-ending display of perspectives.
And we seek to share what is in our hearts and minds, as part of the creative process.
(Here comes the superhero part)
By sharing our ideas and thoughts with fellow Jigidi puzzlers, we're fueling each other's imagination. Thus, giving our creativity building bricks to come up with ideas for new solutions to create, curiosities to satisfy, and ideas to pursue.
So, when you lay your head on your pillow tonight bear in mind, that you've done your bit to thrust us onwards to a new tomorrow (honestly, no wonder we lack the energy to clear out the attic as well).
Thank you for this week! ♥
With lots of love, Jigidi